Unlock the benefits of the entire Pathway portfolio with Pathscape software. Pathway DMX lighting network products feature an array of features and functions to keep your high-performance lighting network running cleanly and smoothly.
Pathscape is your configuration tool and status monitor for your DMX lighting network. All networked Pathway devices are listed in one place, in customizable display formats. Organize and sort your devices and settings in a layout that works best for you. Colorful icons show the status of the devices at-a-glance, and it's easy to drill down and see how devices are interconnected.
Pathscape software is a user-friendly tool that simplifies and streamlines DMX lighting network setup and management.
Now Available! Pathscape v4.4.1 includes all the tools for the flexibility RDM has to offer.
Key Features included with Pathscape v4.4.1
Option to use ANSI E1.33 RDMnet with third party RDM controllers
RDM device offline detection
Restore RDM properties to your whole rig from a show file
Support for Queued Messages and Manufacturer Specific PIDs
Real-time graphical representation of sensor values
Manage RDM devices, across multiple ports, on one screen
Support for the new VIA24 Ethernet Switch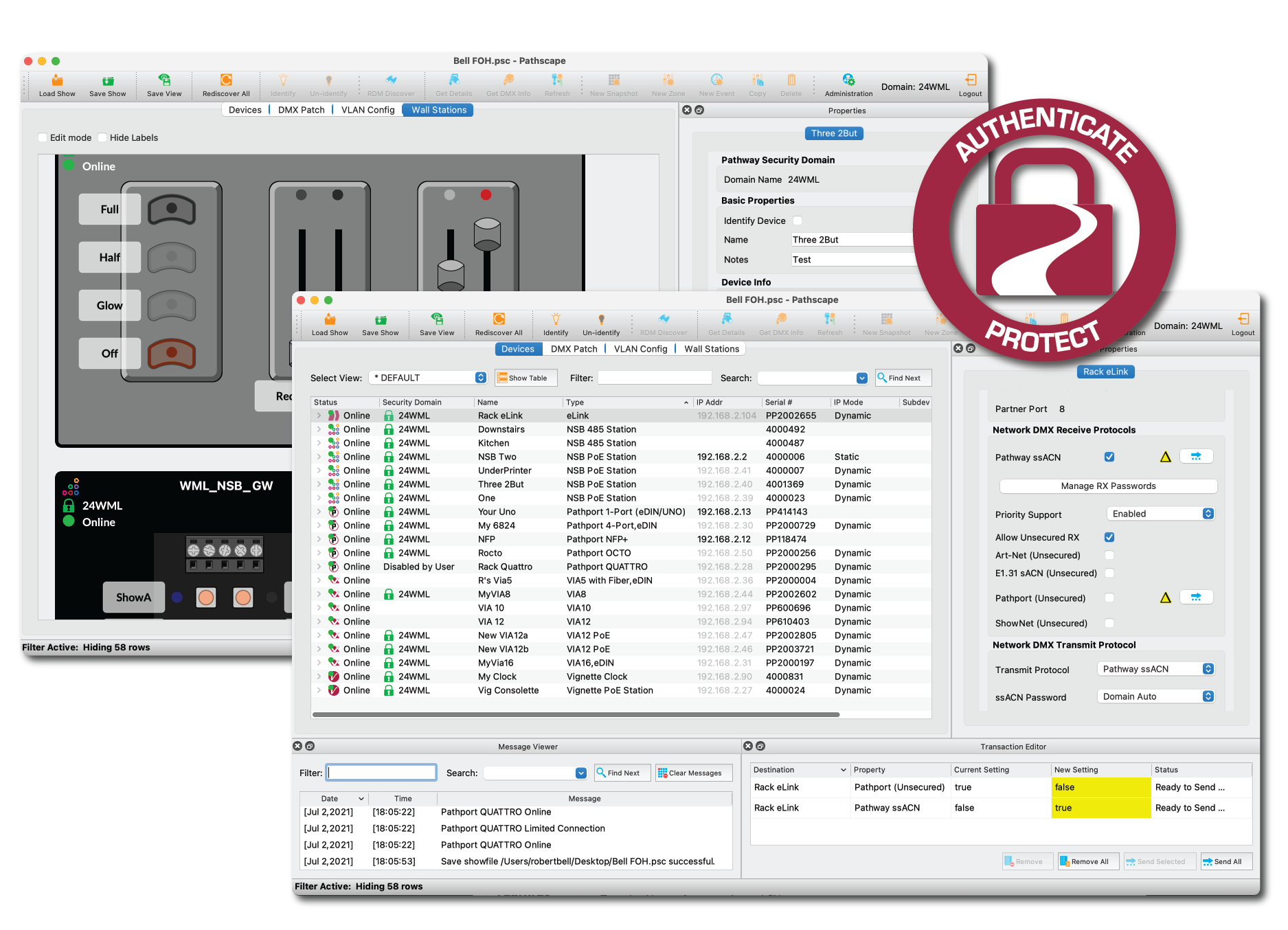 Pathscape Advantages
Most advanced security in the lighting industry
The only software tool you'll need to manage Pathway products
Configure hundreds of devices just as easily as one
Packaged with latest firmware for every Pathway device
Tailored for lighting technicians and field service, not corporate IT
User customizable views
Securely back-up and restore your network and device configuration
Real time GUI representation of wall stations
Freely downloadable for macOS and Windows

Add Security to Lighting Network
Protect your lighting network from bad actors
End to end data authentication
Firmware updates securely signed
Multiple domains on one network

Network Configuration
Virtual Local Area Networks (VLAN)
Ethernet ring protection (EAPS/RSTP)
PoE management and remote reset
Configure IGMP and DHCP services
And many more...

DMX Configuration
DMX start address
DMX speed
Signal loss behavior
DMX input priorities
RDM and RDMnet support
Slot by slot patching to create custom DMX universes to manage multiple controllers

Lighting Control
Record snapshots created by any controller
Define zones
Integrate with an nLight wired network
Test tools for many protocols
Virtual console

Status Reporting
Online, offline
PoE loads
Device interconnections
Network bandwidth (or speed)
Cloud-based monitoring and management with SixEye
Multi-protocol network DMX monitor
Configures Pathway's product line including

Controllers: Cognito2™, Choreo™, NSB™, Vignette™
Ethernet Devices: VIA™, eLink
Gateways: Pathport®
DMX Devices: RDM Repeaters, Snap Panels, and DIN-mount interface cards (using RDM).

Configures any 3rd Party RDM compliant devices connected to a Pathport®


Click here for a list of Pathscape resource videos