How to Enable Art-Net and sACN Reception

SECURITY BACKGROUND INFORMATION

On January 1, 2020, California was the first state to enforce cybersecurity and IoT related legislation. Oregon, New York and Massachusetts are following suit. California's law is Title 1.81.26 "Security of Connected Devices" and mandates that we equip our products with security features that are appropriate to the nature and function of the device. By law, this encompasses all products that are assigned Internet Protocol addresses which can connect to the Internet directly or indirectly. Pathway Connectivity, a division of Acuity Brands, will only ship compliant devices regardless of the jurisdiction into which they are sold.
SECURITY DOMAINS

As you may be aware, in order to use our security-enabled products, they must be either added to a Security Domain, by specifying a unique password, or by enabling Local Security, which enables a self-generated password on the device.
ALLOW UNSECURED NETWORK PROTOCOLS (i.e. Art-Net and sACN)

Unsecure or open protocols do not use encryption or authentication, and could potentially be eavesdropped or spoofed by malicious parties. Pathway cannot ship our devices enabled by default to receive unsecured network protocols. This must be knowingly enabled by the end user.
However, we acknowledge that these protocols are commonly and widely used. Moreover, a fully secure encrypted/authenticated network protocol is not yet widely available.
Currently, in order to use our devices with network protocols including sACN, Art-Net, Shownet, and Pathport protocol, the feature "Allow Unsecured" MUST BE ENABLED.
ENABLING "ALLOW UNSECURED"

USING PATHSCAPE
In Pathscape, add devices to a Security Domain if they are not already. See the Security section of the Pathscape manual for instructions.
Select the base Pathport device (not a port), and in the Properties panel, scroll down to the "Network Protocol Support" section.

Click the checkbox next to "Allow Unsecure" and send the transactions. A window will then appear asking you to accept the risks associated with using unsecured network protocols.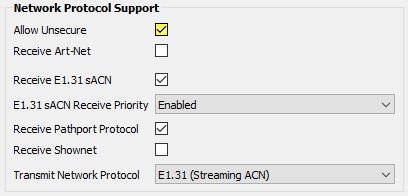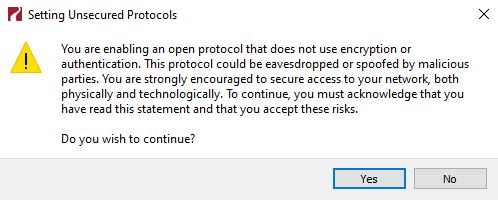 Click "Yes" to accept. This will allow you to configure the protocols you wish to use. Click the checkboxes to select Art-Net, sACN, Shownet and Pathport protocols.
If "Allow Unsecure" is not enabled, the device will not receive or transmit lighting data.
ENABLING "ALLOW UNSECURED"
USING FRONT PANEL (LOCAL SECURITY)
If you are not using Pathscape to configure your Pathport device, but rather the front panel UI (OCTO or QUATTRO), you will have to enable the Allow Unsecure feature after enabling Local Security.
Enable Local Security by navigating to the Utilities menu and selecting Enable Local Security.
In the Protocol menu, enable Allow Insecure Rx. You may then select which Protocols you wish to receive.
If "Allow Unsecure" is not enabled, the device will not receive or transmit lighting data.